For incidents 1 to 100 see this post…
Latest Update:
27th February: Jessica Penne, 20 month suspension
26th February, Isabela de Padua, 2 year suspension
11th February: Michel Prazeres, 2 year suspension
16th January: Fabricio Werdum, 10 month reduction in sanction
11th January: Jessica Penne, stanozolol positive
9th January: Sean O'Malley, 6 month suspension
8th January: Dequan Townsend, 6 month suspension
101. Thibault Gouti
Current status: Suspended until September 2019
In March of 2019 Thibault Gouti walked into the store, bought a supplement without checking the ingredients. Returned home, and started taking the supplement. Two days later he spotted Ostarine on the label and immediately returned it to the store.
Amazingly this was enough to get him an 18 month reduction in his sanction (along with "substantial assistance" and he was put on the sidelines by USADA for 6 months.
Tested during suspension? 
102. Vince Murdock
Current status: Suspended until March 2021
In August 2019 it was announced that Team Alpha Male's Vince Murdock had tested positive for GW1516. The Californian had been due to make his UFC debut against Jordan Griffin in June. Admitting use of prohibited substances prior to entering the UFC was enough to get his punishment reduced to 20 months.
Tested during suspension? 
103. Dmitrii Smoliakov
Current status: Suspended until at least April 2021 (Released by the UFC)
You go 0-2 in your first UFC run and inexplicably get brought back into the UFC to provide an easy win for your former training partner Greg Hardy, a fight in which you make no effort whatsoever to compete, let alone try and win. Following your second release its then revealed you have tested positive for both EPO and HcG. Just another colourful episode in the life of Dmitrii Smokiakov. Despite a 2 year suspension from USADA the Russian would be scheduled to appear on Fight Nights Global in October 2019.
104. Sarah Frota Lima
Current status: Suspended until at least July 2021 (Released by the UFC)
Sarah Frota entered the UFC on a tear. 8-0 in the cage including a destruction of Maiara Amanajás on Dana White's Contender Series.
In her first fight, a split decision loss to Livia Souza, she would miss weight by a whopping eight pounds,. In her second fight she would lose to Gillian Robertson by second round TKO.
To add insult to injury her fight night sample would prove to be positive for multiple stanozolol metabolites. Unsurprisingly, she was immediately released by the UFC. Her suspension was also accepted by the Edmonton Combative Sports Commission making her unable to compete for any ABC registered commission until 2021.
105. David Branch
Current status: Suspended until April 2021 (Released by the UFC)
In September 2019 it was announced that former WSOF champion David Branch had tested positive for Ipamorelin and had been suspended for two years. Branch was subsequently released by the UFC.
106. Nate Diaz
Current status: Cleared to fight
On October 25 2019 Nate Diaz took to twitter to announce that he had tested positive for elevated levels (of what would later turn out to be a SARM) a prohibited substance.
Your all on steroids not me pic.twitter.com/ykrZmRIoPS

— Nathan Diaz (@NateDiaz209) October 24, 2019
Once the smoke cleared it was determined that Diaz had provided an atypical sample for LGD-4033 that was below the (newly implemented) decision limit for the substance.
You can read more about the whole story in my first piece for The Body Lock MMA.
In January the story took another turn when we discovered that the cause of Diaz' positive was in fact one of the supplements manufactured by a company that he owns along with brother Nick.
107. Amir Aliakbari
Current status: Released by the UFC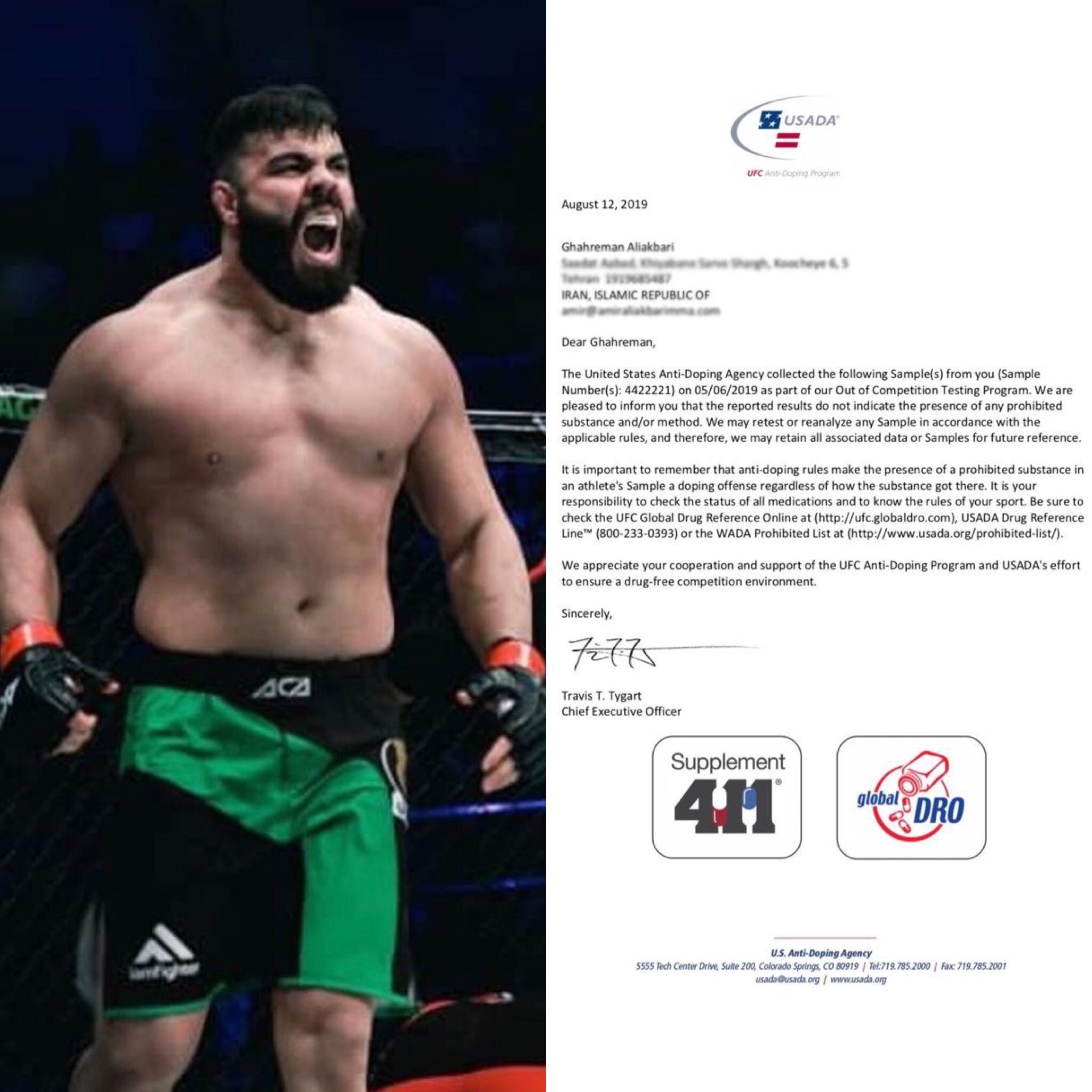 In 2013 after being banned for the second time by the world governing body for wrestling, this time for life, Amir Aliakbari decided to make the transition to MMA. Eventually, after paying his way out of his contract with ACA he found his way to the UFC and was even subjected to a single doping control (Which he passed).
Of course then, USADA realised that the UFC booking team had once more (see Andrea Lee case and others) failed to do their due diligence and he was released from the UFC after it was determined that USADA would be recognising his life time ban from sport.
Bizarrely it was reported in the Iranian media that he had been forced to leave the UFC because of American trade sanctions against Iran. God bless google translate.
108. Priscila Cachoeira
Current status: Suspension ends February 2020
Pricila Cachoeira may not have the fondest memories of her time in the UFC. She arrived with a perfect 8-0 record but in her debut she suffered a torn ACL and was brutalised by Valentina Shevchenko. Further defeats against Molly McCann and Luana Carolina followed before setting up a match against Ariane Lipski (Who has had her own share of troubles since entering the "big show").
That wasn't to be as the Brazilian managed to test positive for Hydrochlorothiazide a few weeks out from the fight.
Cachoeira would admit to inadvertently taking a prohibited substance as a result of medicine given to her by her mother.
"I was feeling sick, with high blood pressure and my mom gave me Hydrochlorothiazide, which is a diuretic. I was feeling really sick at the time and didn't event think about USADA or anything, let alone my mom, who knows nothing about those things, she's just a nurse. She saw her daughter sick and wanted to help by giving me medication, Two days later I was tested and result came in yesterday. I said 'Mom, what was the medicine you gave me on that day?' She said it was Hydrochlorothiazide, a diuretic that is a forbidden substance."
In Decemberit was announced she had received a four month suspension.
109. Khalid Taha
Current status: Suspension ends October 2020
The German received a 12 month suspension following his positive test for furosemide after his fight at UFC 243. There is a certain irony in testing positive for a diuretic when you consider that he missed weight for this fight. He will be eligible to return in October 2020
110. Dequan Townsend
Current status: Suspension ended December 2019
In January 2020 it was announced that Dequan Townsend had been suspended for six months in relation to a positive test in June 2019. Townsend who was knocked out by Dalcha Lungiambula and subsequently tested positive for both cocaine metabolites and fentanyl. His suspension was reduced to six months subject to completion of a drug awareness course.
111 (and 70 & 93). Sean O'Malley
Current status: Suspension ends February 2020
The continuing story of Sean O'Malley…. After positives for Ostarine in 2018 (served 6 month suspension), June 2019 (deemed residual) he now added further positives in August 2019.
His suspension was reduced to 6 months after weekly testing for the second half of 2019, and detailed records including keeping a daily food diary.
112 (and 42). Jessica Penne
Current status: Suspended until December 2020
Already suspended for 18 months in 2017 for DHEA, Jessica Penne returned from her sanction and was scheduled to face Jodi Esquibel in early 2019. First withdrawing with an ankle injury, Penne then withdrew from the scheduled rematch for undisclosed reasons.
In January 2020 she announced in a lengthy statement on Instagram that she had tested positive for Stanozolol and had been provisionally suspended.
To all my fans,

I am not even sure how to start this or go about addressing this to everyone… I am heartbroken and defeated. USADA has effectively bullied and forced me into retiring from MMA. About 3 years ago I was advised by my doctor to start an OTC medication that would balance out my extremely deficient hormone levels. I followed the rules to the best of my knowledge and even had prescribed medications rejected when I was informed they violated the stipulations of USADA. With USADA being new to me and most everyone in the UFC at the time, my naivety thought that having a doctor's note/recommendation for a simple "over the counter product" would be safe to take… turns out it wasn't and I was banned from fighting for 18 months… I was upset because I did not knowingly break the rules but I took ownership, kept my mouth shut, and served my sentence.

During this time I was repeatedly tested and I was clean on everything. This incident was a wake-up call which made me hyper paranoid about everything I put in my body because the stigma of being thought of as a cheater is humiliating and something that goes deep to my core beliefs that I couldn't be tied to. I went broke during this time and embarrassingly had to do anything I could to make ends meet… I drove for Lyft, taught privates and anything I could to get by.

Finally when I had served the sanction, all I wanted to do was get back to fighting. I was booked to fighting in February of 2019 when I suffered a sprained ankle warming up the day of the fight… I couldn't believe this happened, I felt like I was cursed. The UFC was gracious enough to re-book me in April but as you may or may not remember I was pulled from that fight. The reason I was pulled was because of an extremely low level of stanozolol was found in my system (picogram levels)… My heart sank… after everything I had gone through by complying and staying quiet just to get my shot back, this happened… I had been tested so many times and had even tested clean days before this actual test was given… I knew this had to be a mistake or some form of contamination. When we thought was going to be an easy determination of cause, turned out to be an emotional roller-coaster and ended in disaster.

I spent thousands of dollars I didn't have testing medications and supplements (most of which were 3rd party certified that the UFC PI gave me). The lab I tested my supplements at (Korvalabs in California) actually found the banned substance that USADA was trying to pin on me. I was overjoyed with happiness thinking that my name would be cleared and I could return to fighting. However, that was not enough for USADA… and even with those test results AND all their evidence showing that the levels found in me were so small that it was clear to everyone that it was not a "performance enhancing dose", USADA took it upon themselves to find new samples and retest everything at a lab in Utah…

Weeks went by and after lots of confusion and arguing, USADA comes back and says their test results negated my test results and they were handing me my second violation, which comes with a 4 year suspension. At my age there is no way I can come back in 4 years… at this point I am lost and defeated.

Donna Marcolini and Jeff Novitzky who are in charge of athlete health and performance for the UFC, and who handle all the dealings with USADA, have believed in me and my case since day 1. They have supported me and have spent endless hours on my case to prove I did not do anything knowingly and intentionally to cheat. During this 3 year period I've been sidelined, USADA has had to reform some of their rules which legally gave me a sliver of hope because under these new rules, my "first offense" should be wiped away with the knowledge and proof of the doctors advice and compliance. I showed to try and follow the rules. It was very clear I didn't knowingly take a banned substance… there is a paper trail to prove it and I never hid the face that I took it… as a matter of fact the only reason they caught it is because I wrote it down and informed them of it.

After the so-called second offense, I was subject to multiple interrogations during at which my emotional state of crying and utter disbelief caused me to come across to Nadia (the USADA agent) as "not pleasant". She showed zero understanding to my emotional state and I believe she was simply on a witch hunt to show relevance to her job. When she couldn't pin me for how this "non performance enhancing dose" got in my system, she essentially told me I was screwed and they would sanction the full 4 years on me unless I ratted out other fighters or coaches that I knew were using PEDs. My mind was blown. At this point I lost all hope and respect for the USADA program. I am all for a clean sport and the idea of USADA, but to threaten and end a non cheaters career because they aren't good enough to find the real cheaters on their own is mind blowing.

I have fought this with everything I have and Donna and Jeff have exhausted every resource they have to prove my innocence… USADA is now acting like the "high Sparrows" in Game of Thrones and operating in a capacity where they feel untouchable and know 90% of the athletes can't afford to properly defend themselves. As a final insult to all of this, Nadia and USADA have requested that I sign a letter agreeing to their career ending terms and sanctions against me. I am here today to tell you that my management team and I did NOT and will not ever agree to sign this sanction they are imposing. I AM INNOCENT! I don't know where to go from here… At this point USADA has held me from making a career and income for the last 3 years and I am ashamed to say I am broke, defeated, and heart broken. I have been advised by Jeff and Donna that I have one last shot to try and get back and that is hire a lawyer and fight USADA head on in court but that could cost upwards of 30-40k. My manager has advised me that he is going to start a go fund me account to see if we can raise the money needed to fight but I am not holding my hopes high. I hope with all my heart that you all believe in me and know I would never cheat… I loved this sport and gave my life to it.

Sincerely,
Jess
USADA would respond the same day with a statement of their own:
Given Jessica Penne's public statement, we can confirm her positive test for stanozolol. However, there are many factual inaccuracies and unfounded allegations in her statement, including that she has been forced out of UFC. In fact, she has exercised her right to contest her case before an independent arbitrator, per a request USADA received after she released her public statement. Under the UFC Anti-Doping Policy, all athletes have the right to present the facts and circumstances during a full evidentiary hearing. We look forward to the opportunity to present the facts and evidence through this process.
The contaminated product was claimed by Penne's management to be "Aftera", a contraceptive morning after pill in a social media post that was later deleted.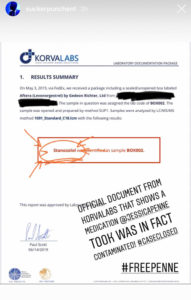 In February USADA announced that Penne had been suspended for 20 months. It was not considered a second violation (and therefore 4 year suspension) as they accepted that her first violation for DHEA was non-intentional.
The contaminated product was dismissed by USADA after conducting their own testing.
113 (and 67). Fabricio Wedrum
Current status: Suspension ends April 2020
In September of 2018 Fabricio Werdum told Combate that he would never "snitch" stating it was against his principles.
"What surprised me the most was at the end of the interview, it was something that I found absurd," Werdum said. "They said, 'Werdum, here's the thing: If you tell on someone …' It was what you could call 'delacao premiada' (plea bargain). 'Werdum, if you tell on someone' – using the slang, if you're a snitch – 'we'll shorten your suspension. Because you're going to have to pay something. Even if we find the substance in any of the products we test, even if we find it, you'll have to pay something.'

"… For the guy to make me an offer like that, to snitch on someone, that goes against my principles. I can't tell on someone. Even if I knew, I wouldn't do it. How am I going to snitch on someone to make it better for me, to lower my suspension or whatever?"
In January 2020 it was announced by USADA that Werdum had received a 10 month reduction in his sanction for doing just that.
114. Michel Prazeres
Current status: Suspension ends April 2020
In early 2020 USADA announced that veteran Michel Prazeres had been suspended for 2 years after testing positive for boldenone. He will be eligible to return in 2021.
115. Isabela de Padua
Current status: Suspension ends November 2021
Brought into the UFC in November 2019 as a late notice replacement the Brazilian would lose her debut to Ariane Lipski. Things got a little worse for her when the fight night drug test came back positive for nandrolone. A further positive came later in the year with an out of competition test. Should she be retained by the UFC, she will be eligible to fight in November 2021.
Non USADA suspensions since 27th August 2019