Originally published in June 2012 about two months before Armstrong was charged by USADA with multiple offences.
I guess, deep down, everyone wants to cause a shit-storm. The fight against Lance Armstrong was fought on many fronts, in newspaper columns, on tv, on message boards and forums, and in blogs, and one of the things people would often ask is "Why Lance, Why does he get so much hate", and that's the thing, it was never just about Lance. It was about a collection of cover-ups and lies, that stretched from boardrooms of Nike and Oakley, to US Cycling, Pr Companies and Medical Companies. And late in 2011 I decided that somehow that needed to be presented, and the mapping of Lance Armstrong's business links began – Dim Nov 2016
2012 – This is a project I have been thinking about and planning for a while, and now seems a particularly relevant time to put it in the public domain. Many questions have been asked recently; how, if Lance did dope, was it so effectively covered up, where did the funding come from, how is what's written in the media shaped, and who has the most to lose?
This presentation is not an exhaustive list. There are many more relationships – both personal ones, and business ones – to be explored. The reach of the chart is not just restricted to U.S. Cycling, but worldwide. Some of the business relationships are current, some of them are in the past, but every name on the list has at some point influenced not just the way cycling is run, but also influenced our perceptions of it and what we believe to be true.
To understand how it all works you need to understand some of how it all started. In the beginning there was one man, Thom Weisel, a man with an enthusiasm for cycling, but also an overwhelming determination to win, however that could be achieved. He started small, with the Subaru Montgomery team, and on that team was a young, brash American with potential. With him, Weisel already had a plan to dominate world cycling and most importantly in the eyes of the public, the Tour de France. Lance Armstrong was his name. Armstrong then joined the Motorola team, run by Weisel's friend and employee, Jim Ochowizc, but it wasn't all happy sailing. Lance had a reputation as being cocky, arrogant, and difficult to deal with, and eventually the two parted ways with Lance going to the French Cofidis squad.
Weisel's plan hit a bump. He had the rider, but a rider who was hard, if not impossible to sell to the American public. He didn't have the charm of LeMond, the press wouldn't warm to him, and he knew the public would never really take to him. But then, Cancer came along. Suddenly there was a glimmer of hope. Lance was still the brash, cocky rider that people would not warm to, but now he had a story, now he was a survivor, he'd achieved the impossible miracle, and US Postal was born. Livestrong was founded, run by the very same people who would also be part of Tailwind Sports, owners of the US Postal team, and in 1999 after the shadows of the Festina Scandal, Lance won the Tour de France. The survivor, the hero, the anthropologist, had saved cycling.
Meanwhile, Weisel wasnt hanging around, and started to take over US Cycling. First with the development foundation and ultimately with a buyout of USAC, putting onto the board his closest associates, friends, and business partners. A fascinating article by Les Earnest, who attempted to block the moves to takeover the federation, can be found here.
While Mr. Weisel and company have been consolidating their control of USA Cycling and shaping it to suit their interests, he has been less successful in fending off federal investigations of crooked dealings by his investment firm, Thomas Weisel Partners, which has now been forced to pay a $12.5 million fine following a lengthy investigation by the Securities and Exchange Commission. So the world continues to turn and USAC members continue to allow Weisel to run their sport to suit his interests. At least for now.
Pharmaceutical companies, doctors, sports photographers, journalists, public relations companies, coaching companies, energy drinks manufactures, sports companies, race management companies, training companies, property companies, plots of land in the Bahamas, gold mines, aeroplanes, hotels, public strategies companies – the breadth of associations is never ending, and with each new company found, new holding companies, new subsidiaries, and new names get added to the list.
Along the way there have been casualties, notably Floyd Landis and Tyler Hamilton, but also key business investors like David "Tiger" Williams, so long an investor and key part of the organisation, who was one of the first people Landis turned to when he made his allegations against Armstrong. Williams' advised Landis to speak out (Williams had a falling out with Lance over a merchandising agreement several years previously). The rest is history.
This is far from the end of the story, politicians, majors, medical institutions have all played their part along the way, and without exception, all have something to lose.
You can download the full chart of Armstrongs Business Links below
A few days after we published the original article, both Lance and Doug Ullman, CEO of Livestrong posted this image online..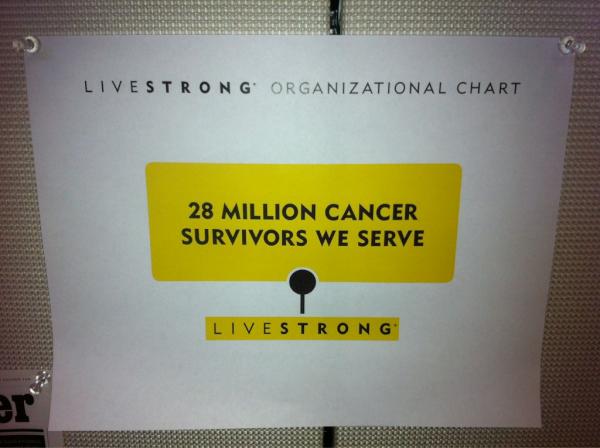 Postscript – November 2016
When we published that article we never really knew just how much coverage it would receive. Cyclismas at the time along with NYVelocity was one of the leading sites at the centre of the Armstrong story, with both sites regularly releasing candid interviews, or legal documents from a variety of sources, and both that, and my piece taking apart the myth of the 500 tests would appear in the top 3 of the sites most visited pieces that year.
I guess if someone asked me what part I played in the whole "Armstrong thing", well, I was the guy that did "That bloody chart".
A few months after publication I was contacted by Reed Albergotti and Vanessa O'Connell from the Wall Street Journal. They had seen the piece and wanted to use it as inspiration for a graphic in their upcoming book on the Armstrong story.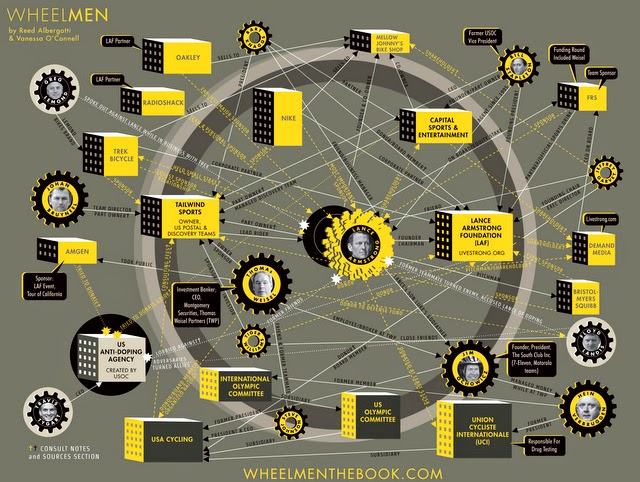 As a result it was condensed and re-imagined by (the infinitely more talented) Graphic Artist Otto Steininger and was the inside cover of their book, "Wheelmen"