Originally a blog piece, and then adapted for Cyclismas in 2012
Ibarguren as appears on Etixx Quickstep staff list – Nov 2016

Jose Ibarguren (Taus) and Italian pharmacist Guido Nigrelli, "between them procured, administered or in any case favoured the use of substances not justified by pathological condition, towards the ends of altering the performances of athletes on the Fuji-Servetto professional cycling team, or otherwise to modify the ant-doping controls by the use of pharmaceuticals, and among these, substances containing testosterone: in Mariana Mantova and elsewhere up to the end of 30 April 2009." ~ Mantova Court Summons, April 2012
1999 Lotto
It was in '99 that Dr. Ibarguren first came to public attention. A year after the Festina scandal, where Willy Voet was stopped by the police in a Festina car found to contain various doping products, including erythropoietin, amphetamines, and growth hormone. Amongst the fallout were allegations from Voet that Taus was doping his riders on the Lotto team. Voet appeared on Belgium TV and said, "Once I needed EPO and so I asked the masseuse at Lotto. He spoke to the Spanish medical team and within 24 hours I had [EPO]." Taus responded, "Voet is a liar. He is desperate, trying to say that everything is equal and dropping people in it." ["Willy Voet Lies"]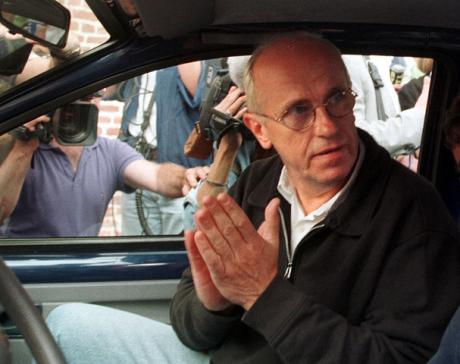 His car was searched at Midi Libre, but again he was equally defensive: "Even products for diarrhea or sore throat… I keep receipts for." He claims that not every doctor in the sport is ethical,  "In every herd there is a black sheep, but it is wrong to judge everyone with the same brush. Many drugs are dangerous for the liver when taken orally and yet alarm bells ring when a needle is seen. A diabetic who himself arranged to inject is still not an addict? Each team has their own measuring devices along for blood tests and when you see blood outside certain parameters you investigate. No, it is not easy work, but you take that away from you because you are so dearly love this sport." [on the brink of illegality]
The Tour of that year was a tense affair following the previous year's scandal. On the day of the prologue, 180 riders had their hematocrit tested. Ten days later before stage 10 in Sestrière, another 51 riders from ten teams (Mapei, Banesto, ONCE, Vita Licio, Casino, Cofidis, Credit Agricole, Festina, Cantina Tollo, and Mercatone Uno) were tested. Reassuringly, as expected all riders tested below their hematocrit levels for the prologue and all below the 50 level. Taus, though, queried the UCI testing. "When I saw the results of the checks in Le Puy du Fou got hold of, I did not know what I saw. Almost all of my riders had a higher hematocrit than those in the preceding days had myself measured."
I tested my riders three times, on the day of the nationals and the Thursday and Friday before the Tour and all the results came back the same, yet then I got word from the UCI of higher levels. A rider with me a week before the Tour had 43%, two days before the prologue 45%, yet the UCI are telling me it is 49%. The UCI say that I use a (testing) device less effective than theirs."
Three other teams questioned the UCI testing that year. Vita Licio Seguros, US Postal, and Cofidis said they, too, saw abnormalities. Cofidis, of course, would go on to be rocked by doping scandals of their own, US Postal were torn apart by the 2012 USADA report, and Vita Licio Seguros had their own doping problems in 2000 when Alvaro Gonzalez de Galdeano and Jan Hruska [ref] both tested positive for steroids. [Lotto doctor reveals large differences between blood tests]
2000 – 2001 Banesto
For 2000 Taus moved to the Spanish Banesto team. The Spanish team were in the news following the testimony of Thomas Davy, who rode on the team for two years from 1995. "In Banesto, there was a system of doping with medical supervision." And when asked if everyone did it, "Yes. I think so," he replied. Among the riders he appeared to accuse was multiple Tour de France Winner Miguel Indurain. Banesto responded "Without proof, no-one may touch Miguel Indurain, he undertook a hundred doping controls throughout his career that showed him to be clean."
As far back as 1982 the team had problems with doping, Ángel Arroyo becoming the first winner of the Vuelta España to be disqualified in 1982 for failing a doping test.
The controversy of the Davy statement quickly died down, but in early 2001 it all blew up again. At the Giro police launched late-night raids on team hotels. Seven riders on the team, along with doctors and staff, were initially named by police, and in total 51 people would be named by authorities for a wide range of doping offences, including Jesus Hoyas (Team Doctor), Zurbano Galilea (DS), Vicente Iza (Masseur), and riders José Luis Arrieta, Marzio Bruseghin, Pablo Lastras, David Latasa, Jon Odriozola, Unai Osa, and Cesar Solaun. [Ref] [Ref] The investigation appeared to vanish. In 2002 CONI received the paperwork from the investigators.. What happened next? [Ref] (Eventually in 2005 Twelve people were charged with offenses related to the San Remo raids, six of the accused were handed suspended prison sentaces, while six went free as it as adjudged that the offenses they committed did not exist at the time.)
Several of the Banesto team during that time went on to be surrounded by controversy. Francisco Mancebo was linked to the Operación Puerto doping case as were Unai Osa Eizaguirre, Dariusz Baranowski, Adolfo Garcia Quesada, Koldo Gil, Eladio Jiménez, David Latasa, Aitor Osa, Rubén Plaza, and Javier Pascual Rodriguez. Alex Zulle, who had already confessed to taking EPO while at Festina, Leonardo Piepoli who would later join Taus at Saunier Duval, and Eladio Jiménez would test positive for EPO in 2009.
2002 – 2004 Lampre
July 28th, and just outside of Lyon, a Lampre-branded camper van is stopped by the police. In it they find suitcases allegedly belonging to Dr. Ibarguren containing corticoids, syringes, and other suspicious products. The French police invited Ibarguren to collect the suitcases and answer some questions, an invitation he declined. When asked, the doctor stated that "no form of doping had been administered at the Lampre team."
Just a few days previously, Lampre rider Raimondas Rumsas had finished 3rd in the Tour de France. On the final day of the Tour, a car driven by Rumsas' wife was stopped by police; in it they found corticoids, erythropoietin, testosterone, growth hormones, and anabolic steroids. His wife was jailed for several months, but claimed throughout that the medications were for her mother in law.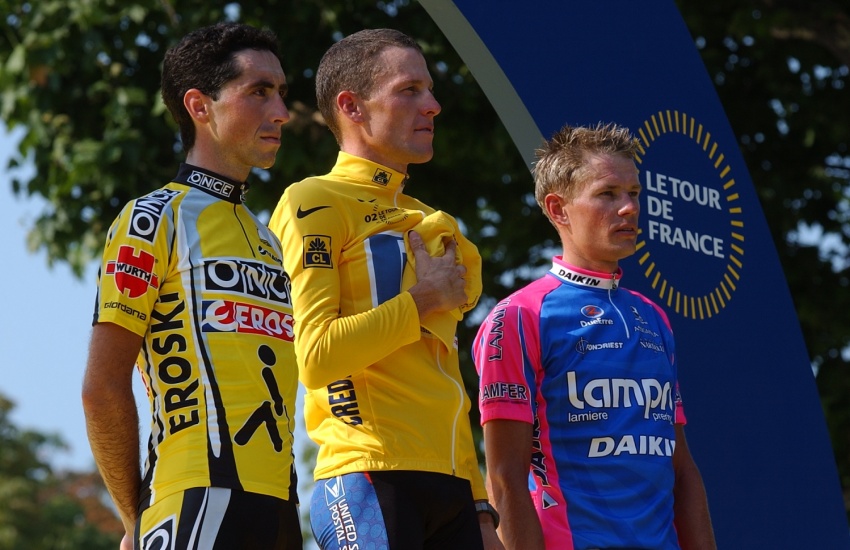 In May the following year, still riding for Lampre, Rumsas finished 6th in the Giro d'Italia, but tested positive for EPO and was banned for a year. And in 2006, now retired, both he and his wife received suspended prison sentences for importation of drugs, while Krzysztof Ficek, a Polish doctor at Lampre during 2002 received a one year suspended sentence.
The team suffered two further doping suspensions over those two years. Sergio Barbero was suspended for six months in the April of 2002 following a positive test for EPO the previous year at the Tour of Romandie. And in 2003 Gianluca Bortolami tested positive for cortisone during the Three days of de Panne and was suspended for six months
The stories didn't stop there. Krzysztof Ficek, a soigneur on the team in 2002, was later given a one year suspended jail sentence for supplying drugs to Rumsas. Alberto Loddo tested positive in 2003 during the Tour of the Algarve for caffeine stimulants. Guido Nigrelli, a doctor on the team, is named in the Maldano investigation; the Ferrara investigation in 2004 concluded that Pavel Tonkov had doped while on the team but no charges were made. Bortalami had just had a positive test at Saunier Duval, but joined the team and was adjudged by the Ferrara report to have doped.
What's interesting is that in his two years at Lampre, the teams recorded their lowest ranking performances (based on cq rank) in 12 years.
2005 – Euskaltel
For the 2005 season Taus returns to Euskaltel on a three-year contract. Ironically, he replaced Jesus Losa, who was dismissed following his involvement in the doping controversy surround David Millar and the Cofidis team. [Ref] [Ref]
At the ripe old age of 28, Inigo Landaluze suddenly wins the Dauphiné after doing nothing throughout his entire career. He tested positive for testosterone, and was suspended, before eventually being cleared later that season. He did nothing else for the rest of his career and was eventually banned in 2009 for CERA.
Aitor Gonzalez tested positive at the Tour of Spain for steroids. Gonzalez blamed it on a contaminated food substance (not steak, it must be pointed out), and the Spanish Federation acquitted him. The UCI then took it to CAS and he was eventually banned from 2005 to 2007.
Interestingly, as with Lampre, the year he spent at Euskaltel proved to be their worst ranking position of the last ten years.
Taus was released from the team at the end of 2005 with two years still remaining on his contract.
2006 – 2009 Saunier Duval [Ref]
You don't really need to be reminded what went on at Saunier Duval, home of one of the most blatant cases of organised cheating ever seen in the sport. In 2007, youngster Riccardo Ricco won two stages of the Tirreno Adriatico, as well as the points jersey. Ninth in Amstel gold, sixth in Flèche Wallone (in his first ever Ardennes rides). Won a stage of the Giro ahead of teammate Piepoli, and finished sixth overall. And finished second In Lombardia. All at the age of 23. By 2008 Ricco had won another two stages of the Giro, second overall, and the young riders jersey. He then went on to win two stages of the Tour de France before finally testing positive for CERA on 17th July. Ricco originally had tried to dodge doping controls, and as a result the testers decided to test him daily. Ricco, by 2011, had been carted off to hospital after allegedly admitting to botching a home transfusion, an admission he later denied, and in April 2012 was banned for twelve years, putting him out of the sport until he is forty.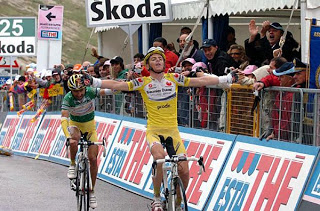 Meanwhile, teammate Piepoli (who had been on Banesto with Taus back in 2001), was also having a remarkably good couple of years. Eleventh overall in the Giro in 2006, he then followed up with a stage win, three second places, and the mountains jersey in the 2007 edition. In 2008 he won a stage in the Tour, helping Riccardo Ricco win two stages, before finally confessing to EPO usage. Two of his samples from that Tour were later found to be positive for CERA.
And of course Iban Mayo. He, too, won a stage in the 2007 Giro d'Italia. (The team total for that Giro was three stages, three second places, sixth overall and the mountains classification.) He then went to the Tour de France of that year, where he finished 16th before it being announced that he had failed a test for EPO and was subsequently banned.
Note: It would appear that following the 2008 Tour, team manager Giannetti attempted to put a stop to doping on the team. He was losing sponsors and the team was under threat. Recorded conversations (see the Gazzetta transcript later on this page) suggest that Dr. Ibarguren doped the riders for the 2008 Vuelta but kept the products at his home as "Giannetti did not want them."  A year later the relationship between Giannetti and Taus ended.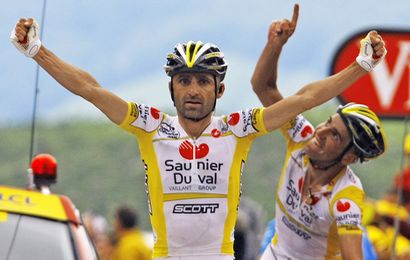 In 2009 the team was renamed Fuji Servetto, but still controversy continued. Ricardo Serrano was suspended in July of that year after testing positive for CERA, at the same time it was announced that Euskaltel rider Inigo Landaluze had also been found positive for the same drug. Interestingly, also on that team in 2009 was the now-retired Daniel Nardello. Nardello famously being one of the trio – including Armstrong and Pozzato – that allegedly threw abuse at Filippo Simeoni.
In October of 2009, Fernandez De La Puebla became fifth rider on the team to fail a test when he tested positive for EPO after being targeted for having abnormal biological passport readings. Others investigated include Koldo Gil (Formerly at Banesto – Puerto), Manuele Mori (Mantova), Francisco Ventoso (tested positive in 2008 after leaving Saunier Duval), Carlos Zarate (Puerto), and Ruben Lobato Elvira (Bio Passport Irregularities in 2010). Sometime during 2009 (date uncertain) Taus left the team.
Something changed at Saunier Duval. At his previous teams they under-performed, and in fact had their worst years in recent history. And yet at Saunier Duval we saw a sharp rise, before the incredible decline in 2008 and 2009, as their riders tested positive.
2010 – 2012 Omega Pharma Lotto/Omega Pharma Quickstep
And so to the present day. And in 2011 we saw him at Lotto, where they recorded their best year in recent history by a dramatic amount. Phillipe Gilbert dominated all year, winning Stages in the Algarve, Tirreno Adriatico, Eneco Tour, and the Tour de France, and won Strade Bianche, Brabantse Pijl, Amstel Gold, Flèche Wallone, Liège-Bastogne-Liège, Tour of Belgium, Ster ZLM Toer, Belgian road and time trial championships, San Sebastian, GP Quebec, and GP de Wallonie (before his form somehow vanished in 2012). Jelle Vanendert wore the polka dot jersey in the Tour and climbed like a mountain goat, before forgetting how to climb in 2012.
And then to 2012, where at Quickstep we see them dominate the spring races totally. Winning overall in San Luis, Qatar, Oman, 3 days of West Flanders, and 3 Days of De Panne, before making the Northern Classics look easy with wins in Nokere Koerse (Chichhi), Handzame Classic (Chicchi), Dwars door Vlaandered (Terpstra), E3 Prisj, Gent Wevelgem, Tour of Flanders and Paris Roubaix (Boonen). Nine national championships followed in the summer, before their season finally slowed down.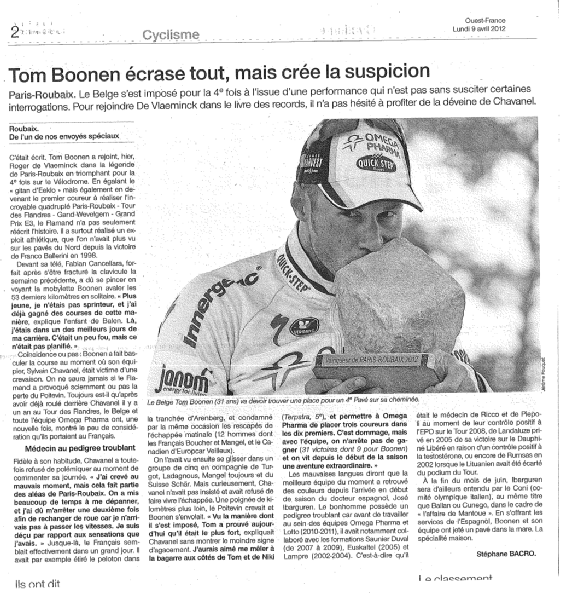 Arguments raged on Twitter about this. Is this a direct accusation of doping at Quickstep? No, the jury is honestly out, but by hiring a doctor who has such a history, there is always going to be suspicion. Ouest France reported today "by hiring the services of the Spaniard, Boonen and his team have set the cat among the pigeons. Speciality of the house" while earlier in April LavoixdesSport simply said "More than a return, a resurrection!" [Ref]
Big questions have to be raised about the wisdom of hiring Dr. Jose Ibarguren Taus.
Is this a doctor that is, as he has claimed all along, not doping his riders? Is he right when he says there was no doping at Lampre, or at Lotto? Was the Banesto team of Mancebo, Piepoli, and Zuelle clean? Did he have nothing to do with the doping at Saunier Duval? Was the performance of Lotto in 2011 just down to hard work? And if he is truthful, how is it that an experienced doctor, who by his own admission tested his riders regularly, who had advanced blood-testing equipment, was unable to detect that Rumsas, Barbero, Bortolami, Landaluze, Gonzalez, Ricco, Piepoli, Mayo, and Serrano were all doping? A doctor who by his own admission keeps receipts of all medicines he buys and religiously ensures that he only gives riders what they are allowed, has been stopped by police on multiple occasions and doping products found in his possession…
Maybe he's telling the truth and he's just been in the wrong place in the wrong time, on the wrong team too many times.
Or there's the other side. A doctor who in the late nineties started distributing EPO and growth hormones but saw limited success. In fact, in the early days the teams he was on actually performed worse and he was fired after just one year of a three year contract at Euskaltel. But with the creation of the biological passport, a doctor such as him with a background in Haematology was able to get significantly better results. With the focus on Michele Ferrari, and in 2006 Eufemiano Fuentes, did that suddenly move him up the food chain and grant him access to the new drug of choice – the at-the-time-undetectable CERA? And does he now have one of the new generation of undetectable performance enhancing drugs?
Dr. Ibarguren is due to appear before CONI in July in relation to the Mantova Case surrounding doping in Italian Cycling during 2008 and 2009.
Of the persons listed as being of interest in the Mantova case, 10 have direct links to Ibarguren:
Alessandro Ballan (Lampre 2004-09)
Marco Bandiera (Currently at Quickstep)
Marzio Bruseghin (Banesto 99-02)
Manuele Mori (Saunier Duval 04-08)
Paolo Bossoni (Lampre 2004)
Mariano Piccoli (Lampre 99-04)
Sergio Gelati (Saunier Duval 2008-09)
Fabrizio Bontempi – (DS Lampre 2003-09)
Guido Nigrelli (Pharmacist Lampre 2002)
Maurizio Piovani (DS Lampre 99-2010)
11th April 2012
On Wednesday 11th April it was reported by Gazetta that he is suspected by the Office of Mantua (Northern Italy) of either supplying, or being aware of the supply of, doping products to riders on the Fuji Servetto team. "[He] supplied or at least favored the use of substances" to "alter the performance of athletes in the team (Spanish) Fuji-Servetto" or to "Modify the results of testing done on them [the riders]."  They also report on transcripts of conversations between him and Guido Nigrelli (who managed the Mariana Manovana Pharmacy). [Ref] What is interesting that he is quoted as asking for products to be delivered to his home, but "not much as Gianetti does not want them" implying that Gianetti was not party to the doping. Gianetti's response: "Bitterness is an understatement. I'm not even comment because I am so disappointed …"

Medic Ibarguren investigated in Mantua case: From Piepoli and Riccò to Omega Pharma

There aren't only directors' names, racers and staff in the Mantova doping investigation. At the end of March case director officer Antonio Condorelli ended his investigation on the Mantova pharmacy, Mariana Mantovana, managed by Guido Nigrelli, which, according to the investigators, was an international doping center that has sent 31 people to court, many of whom connected with Lampre. The first hearing will be held on July 13. Among them is a very important Spanish medic José Ibarguren Taus. He's a person of great relevance, because, for three years Ibarguren was part of the medical staff of Omega Pharma. In 2011 this was the team of Philippe Gilbert, 18 victories; this year that team was fused with Lefevre's Quick Step and, if Gilbert has flown to the American BMC squad, Omega has become the sponsor of Tom Boonen.

The name of Ibarguren, a Basque from Eibar who lives at Alicante, appears on page 3 of the court mandate. A few pages after states the reasoning of the attorney general: "Nigrelli and Ibarguren, as per art. 110 of the penal code (involvement in a criminal act) and 9 law 376/2000 (anti-doping penal law), for having between them procured, administered or in any case favored the use of substances (among those classified in art. 2 of law 376) not justified by any pathological condition, toward the ends of altering the performances of athletes on the Fuji-Servetto professional cycling team, or otherwise to modify the anti-doping controls by the use of such pharmaceuticals and, among these, substances containing testosterone: in Mariana Mantovan and elsewhere, up to the end of 30 April 2009."

Ibargure was at Lampre between 2002-2004 (in the team the Rumsas case exploded), then Euskaltel 2005 (Landaluze positive for testosterone, but absolved for a procedural error) an then the team of Gianetti: Saunier Duval between 2007-2008 (Mayo positive for EPO, Piepoli and Riccò for Cera), and Fuji in 2009. Now, this year, we can also refer to the telephone taps by the NAS Carabinieri of Brescia, which appears in the investigation folder on p. 69.

On 15 April, 2009 Ibarguren was described thusly by NAS: "He's the medic of the Fuji-Servetto, he knows Nigrelli from his time at Lampre. He makes use of prohibited substances and, by his same admission, which he hides in his own domicile because of problems with Gianetti."

Ibarguren: "Now I'm going to send you a fax. However, you send the stuff to me at my home!"
Nigrelli: "Ok, afterward give me the address."
Ibarguren: "With a copy of the reciept for the transport and later send the recipet to the usual one, that guy!"
Nigrelli: "To the usual on then! Write me, José, whatever you want…"
Ibarguren: "There's a little something I want! Nothing big, because Gianetti doesn't want it…what you sent me for the Vuelta I had kept at home."
Four years on, Jose Ibarguren Taus remains a doctor in Cycling, a doctor at Etixx Quickstep alongside other luminaries, Yves van Mol and Roberto Corsetti