Main image: Cyclists on the Ypres-Poperinghe Road, July 1916
"Hélas ! À la reprise des vélodromes, combien d'entre nous auront disparu qui étaient la gloire de notre sport ?" Lucien Petit-Breton
As the world went to war in 1914 Cycling was in its infancy. The Tour de France was just ten years old, the Giro d'Italia only five. It was a hard-mans sport, races held over hundreds of kilometres, on dirt roads, on cobbles, and for many of their riders their careers would end with the onset of war.
This is the story of a few…
Francois Faber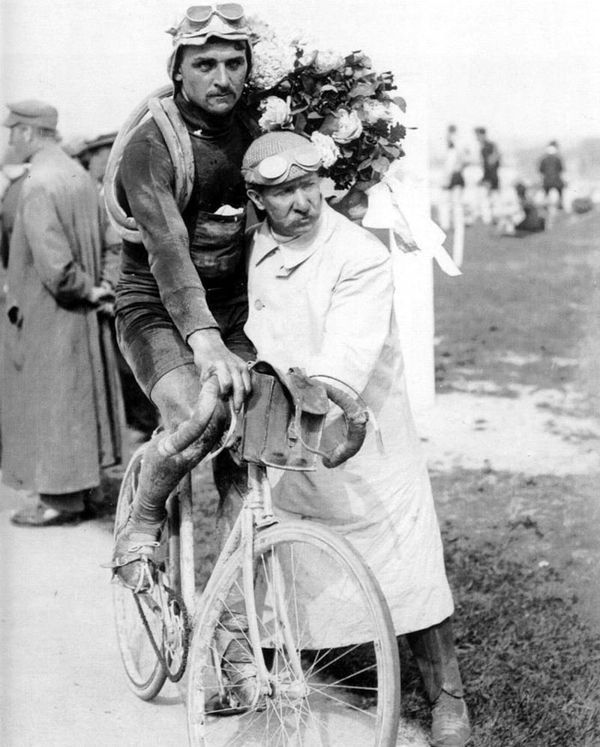 Winner: Tour de France (1909) including 19 Stages, Paris Roubaix (1913), Paris Tours (1909, 1910), Giro di Lombardia (1908), Bordeaux Paris (1911)
Born in Aulnay-sur-iton Faber was every inch the Frenchman despite his Luxembourg passport courtesy of his father. He coupled amateur racing with a job as a furniture remover before in 1906 making the move to professional racing.
After two years at Labor he joined the all powerful Peugot team in 1908 riding to second place in his third Tour de France winning four stages along the way.
In 1909 he dominated. Amidst rain, snow, mud, and unsurfaced roads he managed to win five consecutive stages, including a 200 km solo breakaway to win a stage of nearly 400km to Metx.
In total he would win 19 stages of the Tour, and multiple classics including Paris Roubaix in 1913.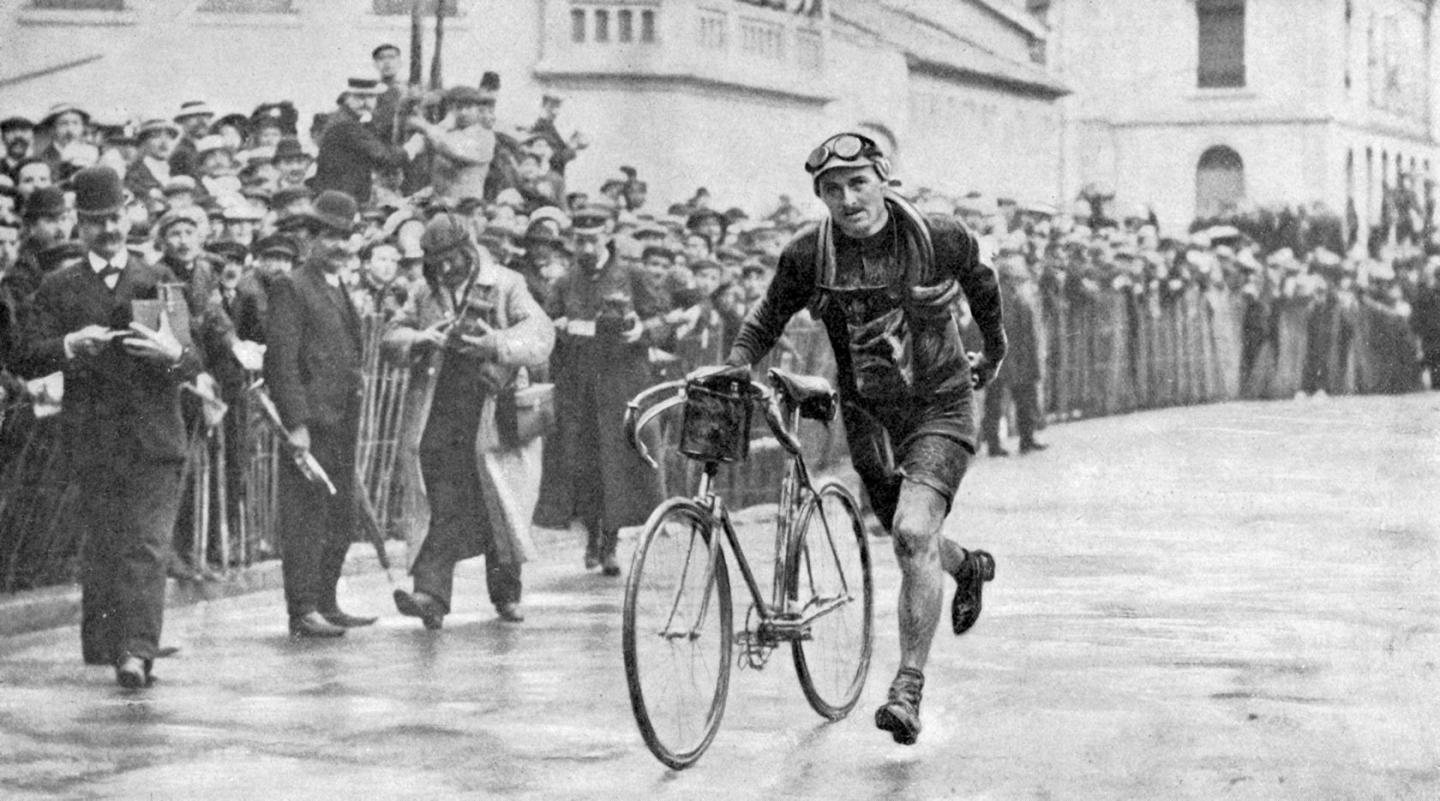 On the outbreak of war Faber joined the French Foreign Legion and was posted to Bayonne as part of the 1st Foreign Regiment. On the first day of the Battle of Artois, 9th May 1915 his regiment attacked the German positions and and nearly 2,000 of their 3,000 men would lose their lives, among them Faber.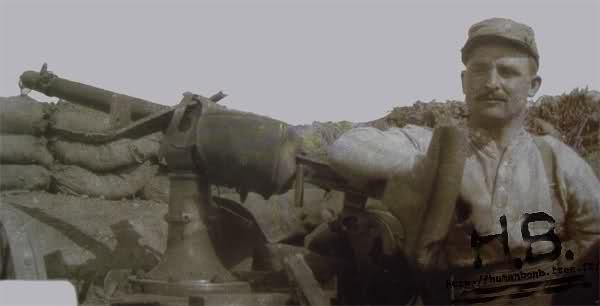 Various stories surround his death, but the most commonly accepted is that he died carrying an injured colleague across no mans land. He was 28 years old.
Octave Lapize
Winner: Tour de France (1910), Paris Roubaix (1909, 1910, 1911), Paris Tours (1911), Paris Brussels (1911, 1912, 1913)
Born in Paris, Octave Lapize was one of the great of the pre-war racers. A skilled track cyclist who excelled in sprints, his breakout came in 1906 when as an Amateur he won his first race, the 96km Grand Prix de Villiers. This drew attention to the young rider who was then recruited by one of the most famous clubs in Paris, Union Cycliste de Paris.
Dedicating himself full time to cycling despite his amatuer status, in 1907 he would win the Cyclo-Cross championship of france beating amount others Eugene Christophe, the seven time champion. Later that year he finished 4th in the professional Paris-Reims, and by the end of 1907 he is also the French Amateur Road Racing Champion.
After another year as an amateur he made his professional debut in 1909 and in April took part in his first Paris Roubaix aiming to finish in the top 10. As the race enters the Velodrome in Roubaix only three riders remain, Jules Masselis, Louis Trousselier and Lapize. Lapize's track experience shows and he wins the sprint, his first classic, his first professional win, and equally importantly a bonus of 3000 franc's from sponsors Biguet and Dunlop, a sum higher than many annual salaries at the time.
By 1910 he has joined the Alycon team and heads to his second Tour de France. One of the favourites for victory, his teammate Francois Faber, the 1909 champion being the favourite.
As the race heads into the Pyranees for the first time its history, Faber holds a 15pt over hs teammate (the 1910 Tour awarded points based on your finishing position). Lapize dominates. In the first stage they cross Col de Port, Col de Portet-d'Aspet and the Col de Ares and Lapize wins, 18 minutes ahead of the second placed rider Emile Georget. The next day they creoss Peyresourde, and Col du Tourmalet and the young frenchman gain dominates eventually winning the sprint into Bayonne.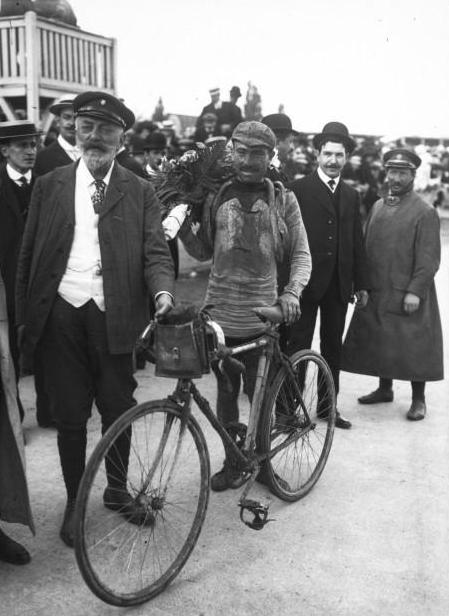 Faber and Lapize battle it out over the coming days with Lapize holding a single point leader over his teammate. On the final stage into Parc des Princes Faber finishes in the lead group in fourth place, Lapize's lead is in danger, but he wins the sprint of the chasing group, taking sixth place, and with it the Tour de France.
Two more Paris Roubaix wins would follow in 1910, and 1911 sealing a string of 3 successive victories as well as French Road titles in 1911, 1912 and 1913 and a string of other one day races
On 28th June 1914 he lined up for what would be his final Tour de France. The very day the race commenced Franz Ferdinand, Archduke of Austria was assassinated sparking the World War.
Octave would win the 8th stage into Marseille on July 12th before abandoning two days later the race due to the death of his mother, with the entire French team withdrawing in solidarity.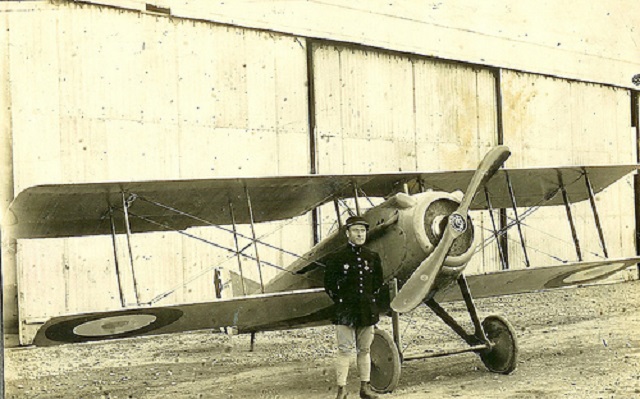 One month later, despite deafness in one ear being enough to exempt him from enlisting he joined the French army initially in the vehicle corp before training to be first a pilot and then an instructor. Determined to go to the front his request was granted in November 1916 and he was posted first in Bar-Le-Duc and then to Toul in May 1917.
On the morning of Bastille Day, July 14 1917 he was involved in a dogfight with two German planes. He is shot down, crashing 8km behind the French lines. He died later that day in a hospital in Toul. He was 29 years old.

Lucien Petit-Breton
Winner: Tour de France (1907, 1908), Milan San Remo (1907), Paris-Tours (1906), Paris-Brussels (1908)
Lucien Georges Mazan was born in Brittany but spent his childhood in Argentina after his parents moved there when he was just six. After winning a bike in a lottery he started competing using the name "Lucien Breton" as it was against his fathers wishes to race (His father determining that he should get a "real job").
He saw some success including the Argentinian National Track Championship but in 1902 at the age of 20 returned to France having been conscripted into the Army. In 1905 having broken the world hour record on the track he moved to road racing and in his first Tour de France managed an incredible 5th overall.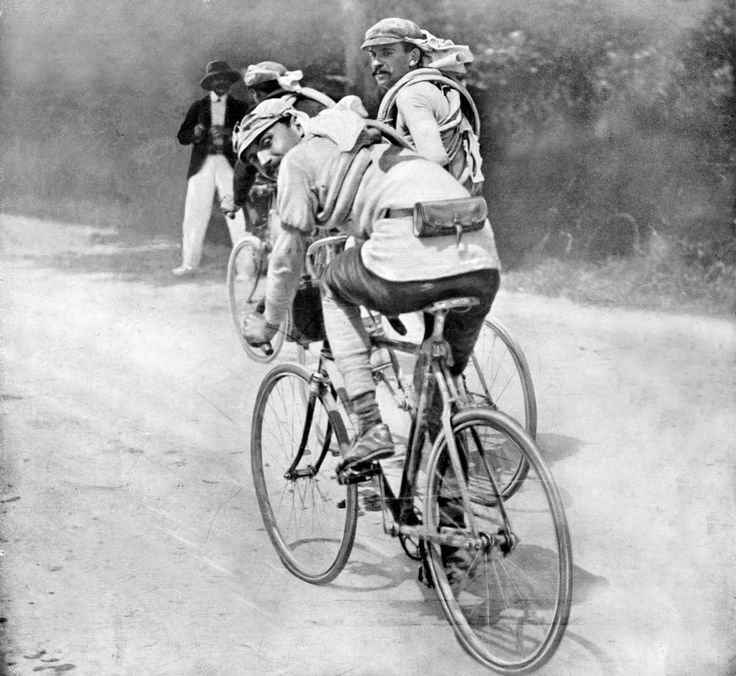 The following year in only his second year on the road he went one better finishing fourth and picked up his first major win, the Paris Tours race.
In 1907 he was the winner of the first Milan-San Remo and by the Tour de France was amongst the favourites. Days in though his form looked poor. Losing nearly 30 minutes to Emile Georget after losing contact on the Col de la Porte he was rescued somewhat by the race being decided not on time, but on points awarded for the finishing position on each stage. (from least points for the winner with more points depending on how far back you finished).
On the tenth stage, an illegal bike change for Georget brought a penalty from the race jury, relegating him to last place on the stage incurring him a penalty of 44 points. Petit-Breton took the lead and with two more stage wins would win the Tour with a total of 47 points, 27 ahead of George who could only finish third.
In 1908 he would win the Tour again, finishing outside the top four on just one stage of the race. After the race he announces that he will not compete in the 1909 Tour and appoints his successor in Francois Faber stating that "I am convinced he will be unbeatable next year"
After his second Tour victory he established himself as a trader. He races sporadically, Abandoning at the 1909 Tour of Italy, he ultimately starts the 1909 Tour de France but gives up almost immediately.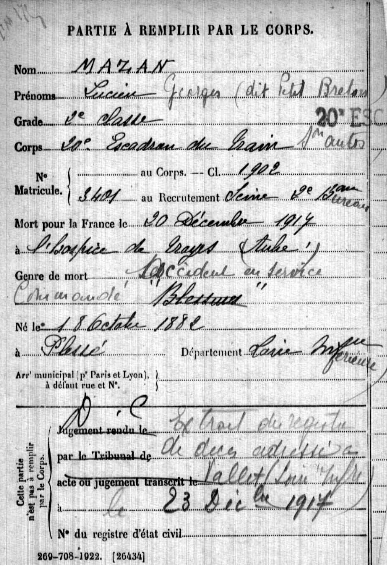 In 1912 he races more convincingly. After joining the Peugot team he picks up third in Paris-Tours, 2nd in Bordeaux-Paris and looks favourite to win Paris-Brussels unti he collides with a spectator by the side of the road. At the Tour he crashes into a cow on stage 2 and is forced to abandon. In 1913 the Tour de France has moved from a points competition to its now familiar time based competition and Petit-Breton shows much of his own skills. Rising to 3rd place on he overall classification he then crashes on the 14th stage forcing his abandonment.
He would race the Tour one more time in 1914, abandoning after the 9th stage into Nice.
On the declaration of war Petit-Breton enlists as an automobile driver. Interviewed in March 1917 he says of the war and the fate of the cyclists in it, "Alas! When the velodromes return, how many of us who were the glory of our sport will have disappeared". He died on December 20th 1917 after an accident involving a horse and cart which turned over in front of his vehicle.
He was the third Tour de France winner to lose his life and by the time of his death every champion from 1907 to 1910 would have become a victim of the war.
Carlo Oriani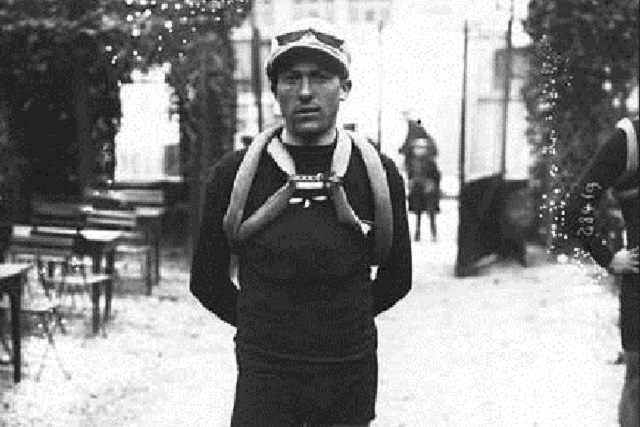 Winner: Giro d'Italia (1913), Giro di Lombardia (1912)
Little is known of Oriani. He took part in the very first Giro d'Italia in 1909 finishing a creditable fifth, this despite being still an amateur and balancing cycling with bricklaying and manual work.  In 1911 he would return to the Giro on the dominant Bianchi team finishing 11th (The team would win that giro as well as placing 2nd, and 8th).
In 1912 he would win the Giro di Lombardia before fighting for his country in the Italo-Turkish war. He would return to Italy the following year for his greatest victory.
The 1913 Giro d'Italia covered 2,932km in just 9 stages, every stage over 300km long and all but one stage where in the mountains. Of the 99 starters, only 35 would finish, and Oriani took the lead on the penultimate stage, a flat stage into Rovigo. Despite not winning a stage, in fact only finishing in the top 3 on four occasions his consistency was enough to enjoy a 6 point lead once the race finished in Milan.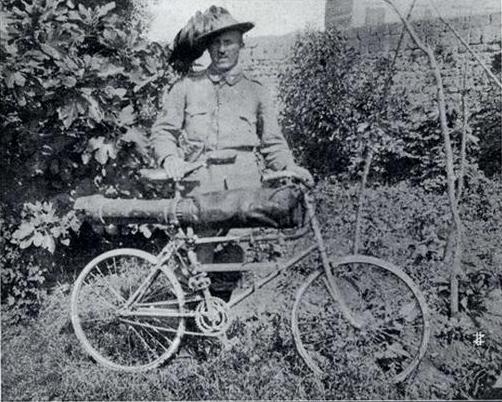 In 1915 Oriani enlisted joining a bicycle battalion in the Italian Army. Over October and November 1917 his battalion would take part in the battle of Caporetto. He would survive the battle but the Italians were forced to retreat to the Tagliamento river.
A bicycle porter, his machine loaded with equipment he reached the river and finding no bridges abandoned his bicycle and dived into the water. The story is different depending on source, some say he fled into the river under enemy fire, others that he dived in to save a compatriot from drowning, but whatever the story, Oriani would reach the far side of the river.
Suffering from the freezing water and wet clothes he was hospitalised with pneumonia, and on December 3rd he died with his wife by his side. He was 29 years old.
Victor Fastre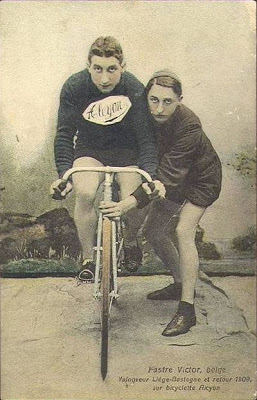 Winner of Liege Bastogne Liege in 1909 after original winner Eugene Charlier was disqualified for changing bikes. On the outbreak of war he joined the 25th Line Regiment as a corporal. He was killed at Rotselaar on 12th September 1914.
These are not the only stories, Paul Deman winner of the Tour of Flanders would join the Belgian Espionage Service. Caught by the Germans and sentenced to death he was saved by the Armistice and would go on to win Paris Roubaix in 1923. George Pilkington Mills, a British endurance cyclist who won the very first Bordeaux-Paris race in 1891 (as well as holding the Lands End to John o'Groats record on no fewer than 6 occasions, and winning a 24 hour Penny-Farthing race with a total distance of 259 miles). He would serve in France during WW1 and then was a member of the home guard in WW2 until his death in late 1945. Eugene Christophe, winner of Milan San Remo in 1910 as well as 3 stages of the Tour in 1912. Would serve in a cycling battalion in the war before returning and winning Paris-Tours (1920) and Bordeaux-Paris (1920 and 1921). And last but not least, Charles Crupelandt, a two time Paris-Roubaix winner and the last French National Road Champion before the war. He would return a hero but two years later is arrested for stealing car batteries and sentenced to two years in prison. On his return, and seemingly at the request of his rivals he is banned from competing by the French Cycling Federation. He dies in 1955, a double amputee, virtually blind and living in poverty.